02 août 2014

You know what? The European Commission in Brussels wants to give new GIs (Geographical Indications) to "highlight specific qualities of products due to human factors". And, even if they haven't mentionned the haggis yet for this public consultation, Scottish kilts are on the list... Flying colours for tartans Hip hip Hurray! That's good news for throwers, pipers and for the Highland Games. We are sure kilts and Scottish tartans will successfully pass the test. And just like Hans LOLKEMA on the photo during the...
[Lire la suite]
22 juillet 2014
Most of the key-words for this Highland Games blogs are about this question: what's under a kilt? And more particularly, what's under a thrower's kilts? Thanks to David Commenchal, a photographer in France, the blog can give more evidence. David took his photos in Thiron-Gardais during the first "Open Highland Games France". And, in fact, you can notice there is a lot to see: another Heavy, a speaker and a host of spectators. Quite a crowd! But I see it's not what you expected! I feel you are a bit disappointed and you want...
[Lire la suite]
04 juillet 2014
Le blogueur spécialiste des dessous de kilts ne remerciera jamais assez David COMMENCHAL (voir son site ) pour cette photo prise lors de l'Open Highland Games France de Thiron-Gardais. Comme des dizaines de visiteurs venus sur le blog des Highland Games en ayant tapé "sous les kilts, a poil sous kilts, bite sous kilts", j'en passe et des bien pires, il a saisi au vol les mystères des dessous de kilt. Et vous pouvez agrandir la photo d'un seul petit click. Pas de raton-laveur Et vous voyez comme moi que David y a trouvé de la...
[Lire la suite]
09 novembre 2013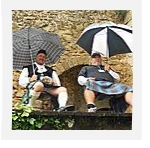 To be or not to be naked under the kilts! That's the essential question for both throwers ans spectators. Not only in Bressuire, but everywhere in the world.Under the rain or under the sun! With or without an umbrella...With or without a stone, a caber or a hammer...Here comes more evidence about life under the kilts with this funny video You just need a ladder. Maybe it will help you change your mind after this home-made slideshow about the throwers in Bressuire, France. already viewed by more than 1300 visitors. MORE...
[Lire la suite]
22 février 2013

In France, we say "dans le mille" (Bull's eye").Here we are! This homemade clip at the Bressuire Highland Games has been viewed more than 1.000 times.Cheers up! Crown Jewels And let me give a tip to the English-speaking readers: if you want to know more about the unknown territories under the kilts, wait until Prince Charles is in New Zealand or Australia.When he's down under wearing his kilt, just have a good look. You might have the priviledge of discovering the Crown Jewels. If it doesn't work, try again and don't worry! ...
[Lire la suite]
14 mai 2012
The countdown has started! Less than 4 weeks to go to the European Highland Games to take place in the grounds of Bressuire Castle on June 9th and 10th. A magical venue for a spectacular show with the following renowned actors: Team 1 : Jonathan KELLY(Ireland) and Grant SINCLAIR (Scotland) Team 2 : Pieter BOUMA (Holland) and Amine AMROUN (France) Team 3 : Daniel DOROW (Germany) and Tarmo MITT (Estonia) Team 4 : Adam DARAZS (Hungary) and Martin SCHILLER (Austria) Team 5 :...
[Lire la suite]
10 mai 2011

A l'occasion des 15 ans du jumelage de Bressuire avec Leixslip ce samedi 14 mai 2011, il ne faudrait surtout pas croire que l'Irlande est la grande oubliée des Highland Games bressuirais si cosmopolites les jours de compétition. Que nenni, les amis ! On y a vu au château des champions de Suisse, d'Allemagne ou de Hollande. On y a vu, aussi, des Heavies venus d'Ecosse, bien sûr. Une ballade irlandaise en qualifs Mais il ne faudrait pas oublier qu'en 2005, un Irlandais (le quatrième sur la photo à partir de la droite...
[Lire la suite]
19 janvier 2011
Just in case you're wondering what the latest section of the blog is all about, Alain deals therein with the delicate question: What does a Scottish athlete wear under his kilt? Is it really true that - with due respect for his warrior ancestors – the answer is "sweet nothing"? Well-placed as he is as commentator on the field, Alain gets closer to the athletes than the average spectator and has a good view of their whirling kilts as they spin around in the weight for distance event or as they swing the weight up and over...
[Lire la suite]
28 mai 2010
With the Highland games D-Day fast approaching, the army of volunteers were invited to this year's briefing which took place at the Jardins d'Orbrie, the drinks company that is one of the Games' sponsors. There were unveiled with all due ceremony two new weapons guaranteed to enhance the Games and ensure another victory for Jean-Louis Coppet and his staff. A new recipe On the one hand, the Bock Highland cocktail with its savvy blend of whisky, apple juice and grape juice, designed to make any potential enemy feel relaxed and...
[Lire la suite]