UPDATE:
10 amateur and 5 professionnal Heavies, 3 lady throwers and 12 French competitors plus a STRONGMEN CHAMPIONSHIP.
That's the line-up for the Bressuire Highland Games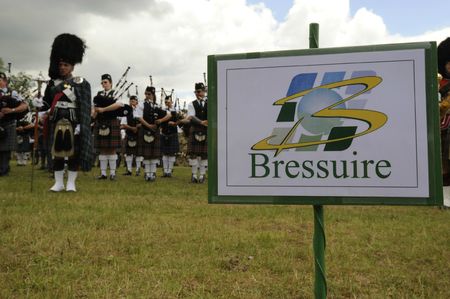 Always on the lookout for a novel approach to the Highland Games, Jean-Louis COPPET, president of Highland Games France, and Francis BREBNER, president of the international federation, decided to make the 2013 edition an Open Competition.
Once seen, never forgotten
And judging from all the familiar faces who have decided to return to the scene of their former exploits, the formula is proving attractive.
Or is Bressuire itself the attraction?
This aerial view of the castle by Jean-Patrick JOLLY shows that Bressuire could be a case of "once seen, never forgotten".
The list of those – amateur and professional – who have signed up so far is already impressive.
10 amateur throwers from 8 European countries

3 Lady throwers from Germany (new in Bressuire)

3 truck pullers (new in Bressuire)

12 French competitors for their national Championship

The amateur line-up: 10 competitors

First on the list were Pieter Karst BOUMA for Holland, Jimmy VAN DE WALLE for Belgium and Jonathan KELLY for Northern Ireland. (see categorie "ENGLISH" for prevous articles)

Amine AMROUN and Belkacem SMAHI will represent France and will find themselves up against some pretty stiff competition.
And they know how difficult it will be!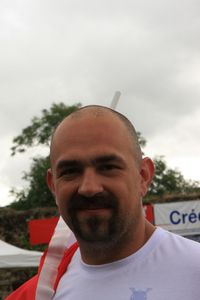 Martin SCHILLER ( photo on the right) will represent Austria.
Two newcomers from Scotland and Hungary
The Scottish thrower will not be Peter HART but Start ANDERSON.
Hungary will have two throwers: Czaba MESZAROS and a new competitor in Bressuire: Attila SZABO.
You can have more about them if you just scroll down the blog.

The professionnal line-up:

5 international stars

As for the professionals, the Open formula will enable Sebastian WENTA to take part in the Bressuire Games for the first time.
Sebastian hails from Poland and is currently the top European athlete.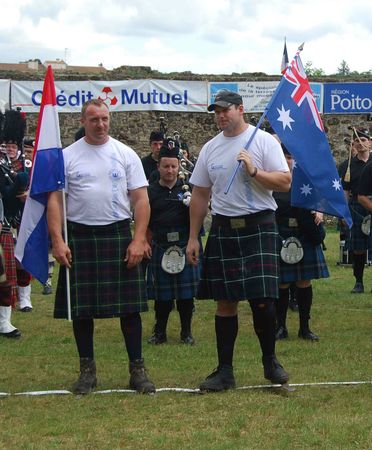 The Bressuire crowds will have the pleasure of admiring once again the Dutchman Hans LOLKEMA, a firm favorite from previous Games.
They will also have the chance to welcome back Aaron NEIGHBOUR from Down Under.
Aaron was crowned World Champion in Edinburgh in 2009 and came fourth in the World Cup in Bressuire in 2010.
Having come from far-flung Australia, let's hope he will fling far stones, weights, hammers and caber.
Number 4 on the list is Scott RIDER from England.
But you already know it if you are a follower of this blog.

And there's also a guest star from Germany: Uli MÜLLER

3 German Lady throwers

Uli will have the opportunity to encourage his wife Petra (photo in Luzarches last year).

Bressuire is going
to stage a women's competition with three lady throwers from Germany
:
The three women will throw during the French Championships.

The French competitors

Who will be the new French Champion?

It will be neither Amine AMROUN nor Belkacem SMAHI because they are in the European line-up.
As usual, the next French winner will come from Bressuire or Luzarches or Saint-Michel sur Orge. The three teams will be on the photo but some of the competitors won't be the same as in 2011. Just remember!
Luzarches will send more competitors. They are six in the line-up for the moment
But there will be only two throwers from Saint-Michel sur ORGE:
Strong men and Truck-Pulling

As a bonus after the Games, there will be a Strong Men demonstration on Sunday from 4.30 pm onwards.
3 athletes have signed up to show their strength in stone-lifting and truck pulling, but also in heavy caber, cork-throwing and barrel for height (2 French specialties).
Sebastian WENTA, from Poland
Jonathan KELLY, from Northern Ireland (photo)

Csaba MESZAROS, from Hungary

Ripple of flags, ripple of muscles

One thing is sure: on June 8th and 9th at Bressuire Castle, there will be a colorful ripple of flags outside the walls and a mindblowing ripple of muscles within!
Alain CADU and Mary PINET

Want to read about the Bressuire Highland Games in English?
Just click on the "English" Tag (column on the right)

Want to read this article in French and see the photos of all the competitors?
Just a click: http://highlandgames.canalblog.com/archives/2013/04/17/26903636.html

Want to see the official videos of last year's events?